The WeChat Official Account Platform is a platform that allows operators to provide WeChat users with information and services through an official account. The Official Account Platform web interface provides the foundation for delivering such services. On the Official Account Platform web interface, developers can create official accounts and get the permissions to develop the interface by reviewing relevant documentation.
In order to identify users, a secure OpenID is generated for each user for each official account. If universal access to multiple official accounts and mobile applications is required, all applicable official accounts and applications can be linked to a single WeChat Open Platform account. Once linked, a user may have different OpenIDs for different official accounts and applications, but will have only one UnionID for those on the same open platform. Refer to the documentation under "User Management - Get Basic User Information (UnionID System)" for details.
Developers should note:
WeChat Official Account Platform Development refers to the development of services for WeChat official accounts, mobile applications, PC websites, and official accounts on third-party platforms (serves official account operators in all industries). Visit WeChat Open Platform for access.

You can apply for a testing account before your application to verify the official account is approved so you can start testing and developing for the interface straight away.

Debugging tools may be used during the development process to debug certain interfaces online.

Every interface is subject to daily call limits. Refer to the Developer Center on the Official Account Platform for details.

Any issues that appear during development can be identified and resolved by making use of the return code for the interface call and the troubleshooting guide (warnings can be enabled in the Developer Center).

The Official Account Platform uses access tokens as the credentials for interface calls. An access token, valid for two hours, must first be obtained prior to making any calls to the interface, and a new one must be obtained once it has expired. There is a limit to the number of tokens that can be obtained per day. Developers should store the tokens. For details, see documentation on credentials for interface calls (access_token).

Official Account interface calls support port 80 only.
Official accounts provide services to users primarily through messaging and its Web pages. Two such examples are covered below:
1. Official Account Messaging
Official accounts exist as a contact for WeChat users. Messaging is the foundation for how official accounts interact with users. Below are the main types of messaging service currently available to official accounts. Each is used in different scenarios.
Broadcast messages: Official accounts may send broadcast messages to users at a set frequency (once per day for subscription accounts, and four times per month for service accounts), including text messages, rich media messages, images, videos, and voice.

Stored Replies: The WeChat server will send any messages from users to the server address configured in the Developer Center (developers must authenticate message validity). The official account may respond within five seconds or return a command telling the WeChat server that it will not respond to the message for the time being. Stored replies can also be set to be encrypted (once enabled in the Developer Center, messages are encrypted and decrypted per relevant documentation. The other three messaging types call an API rather than respond to a request and so do not require encryption/decryption).

Customer Service Messages: An official account can send unlimited messages to a user within 48 hours of receiving a message from the user. This is mainly used in customer service scenarios. User actions trigger push events. Official accounts may send customer service messages for certain push events. See WeChat documentation on push messages and events for details.

Template Messages: Official accounts can use selected templates to send service notifications to users when needed (e.g., credit card transaction reminders, successful appointment booking, etc.).
2. Official Account Web Page
There are many complex business scenarios in which services must be delivered via the webpage. In these cases, it is necessary to use:
Web authorization to obtain the user's basic information: The user's basic information can be obtained through this interface (User permission is not required to get user OpenID but is required to get user's basic information)

WeChat SDK for JavaScript: A software development kit for developers using WeChat's native features through the JavaScript code on the Web page. Developer can use it for numerous features, such as to record and play WeChat audio, monitor WeChat shares, upload local images from a cell phone, take photos, and so on.
Case Studies
The official accounts we can take the most from are service accounts. Some examples are discussed below:
China Merchants Bank Credit Card Center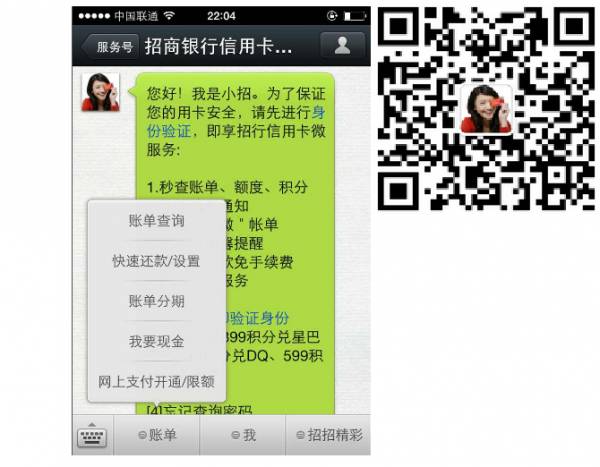 Cardholders can quickly and easily check card statements, credit limits, and reward points, in addition to quickly making payments and applying for bill installments. WeChat can transfer customers to a live representative, as well as send free reminders for each credit card transaction. Non-cardholders can apply for one through WeChat!
CMB sends notices through its official account to help users securely link their WeChat account to their credit card account.
Users can check their statements and receive notifications for credit card transactions through the official account. These features were created by CMB developers through the Official Account interface.
China Southern Airlines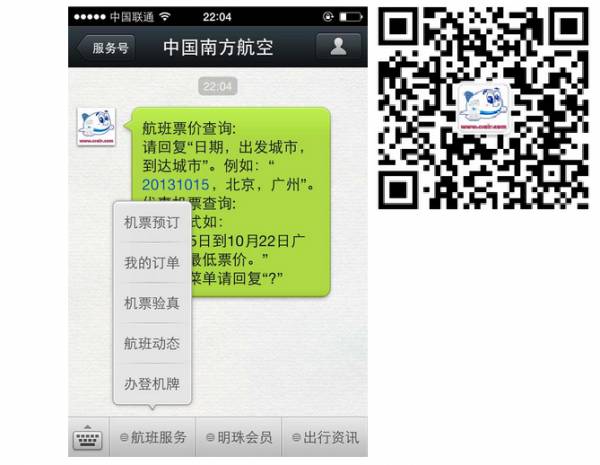 You can check in, choose seats, check flight information, and check the weather at your destination. The official account also provides specialized service to Sky Pearl Club members.
The China Southern official account also allows users to link their Sky Pearl Club member services with their WeChat account.
Users can book tickets, check order status, and even get a boarding pass through the official account.
Guangdong Unicom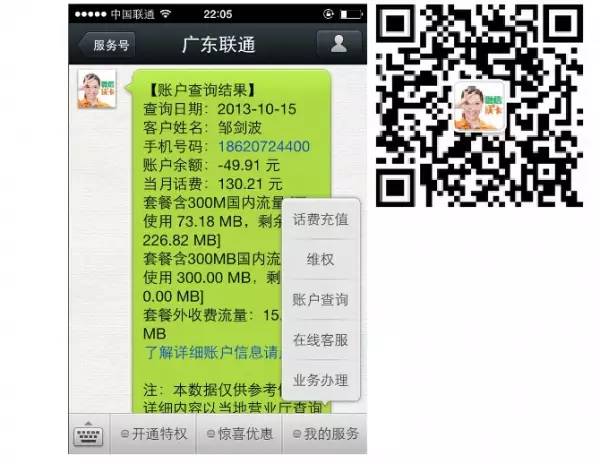 You can link your cell phone number to WeChat to check data credit, plan usage, and data usage, as well as access WeChat's exclusive usage checker and customer service.
Users can link the Guangdong Unicom official account to their cellular numbers to check data and plan usage, etc.
Guangdong Unicom has collaborated extensively with WeChat to offer the WeChat Wo SIM card. Purchase of the card gives users five WeChat privileges.